Structured Cabling Types Active Patch Panels Cable Containment Cabinets/Racks
We offer a range of 19" cabinets & Racks to house all your IT equipment, control equipment and Structured Cabling.
We can offer open racks/cabinets, lockable cabinets with steel or glass doors, and wall mount 2 section cabinets as well as floor standing cabinets. If space is a concern we can offer wall rack solutions. Our cabinet service includes design & installation for small or large Data/server rooms and structured cabling infrastructures.
We offer many makes/cabinet solutions from Cooper B-line, APW, Krone, Chatsworth to name just a few. Below are some of the range of racks & cabinets
Krone Advanced (APF II) Patching Frame
The Advanced Patching Frame (APF II) from KRONE is an open frame specifically designed for use within structured cabling wiring systems. The APF is a high capacity frame, able to accommodate over 1, 000 patch leads when fully loaded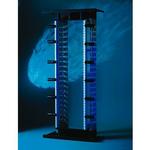 with patch panels or active equipment. The internal capacity of the APF is 42U. Correct cable management is important if a system is to meet ISO/IEC 11801 link and channel performance criteria and the APF pays particular attention to cable management. The frame is available in three versions: a standard open frame, the frame with doors or a frame with doors and side panels where more security is required.

The Advanced Patching Frame has been designed to address the issues of correct cable management when installing high performance systems. All cable management arms, trays and pillars are curved to prevent cables being bent too tightly round sharp corners. The patching fields incorporate unique cable management arms, which swing out to allow patching maintenance to be performed easily. The cable management arms can be positioned where required on the frame and extra arms are available separately for maximum Structured Cabling flexibility.
The frame has a modular structure so that in large installations where more than one frame is required, frames can be connected together, either side by side or back to back. The frame incorporates two vertically mounted bus bars to allow shielded patch panels to be earthed using short earthing straps, which are available separately.
The frame is supplied complete with two 42U cable trays and ten cable management arms. A full range of other accessories is available including cable trays, kits for mounting frames back to back and computer floor mounting plinths, for use when installing through false floors.
Overall dimensions (mm) when assembled
Height Width Depth
2232mm 985mm 501mm
APW IMnet - Wall & Floor Cabinets

The unique IMnet design controls and protects large volumes of data cables and patch leads. All round access and high cable protection ensure the IMnet is the No.1 choice for your network cabling. Frame colour Black, cladding colour Anthracite.
Benefits:Outstanding cable volume
Multiple cable entry
Vertical cable entry
Lightweight, easily removable doors & cladding
Load rated to 250kg
Door can be hinged left or right
Easy all round access
For rear mounting posts please see page 9.08

Consists of:
1 IMnet open frame
1 Glass door
1 Steel door
1 Pair of side panels
1 Top cover
1 Pair of 19" panel mounts
3 Pairs of panel mount supports (2 pairs for 25U and 36U)
Floor Cabinet Dimensions (mm)
Height Width Depth
25U 1298 600 or 800 600 or 800
36U 1798 600 or 800 600 or 800
42U 2048 600 or 800 600 or 800
47U 2298 600 or 800 600 or 800

C Active RAK Controller




The new Active RAK Controller from APW gives the earliest possible indication of potential hardware issues in server cabinets, assisting network managers with easier configuration, more functionality and closer integration with the host network.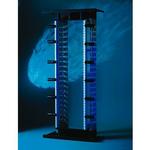 The Active RAK Controller is a slimline enclosure that can be mounted outside the panel area ("zero U") although it comes complete with a rack-mount kit, giving the user the flexibility to place it almost anywhere in the cabinet. The ARC is an intelligent controller. It constantly monitors the cabinet's environment for vibration, temperature and humidity. It can detect power outages, unauthorised door openings or panel removals. It can log security keypad operations and even be linked to a PIR (Proximity Infra-Red) movement sensor monitoring the computer room and a smoke detector mounted in the rack.



On receipt of an alarm condition, the Active RAK Controller can be programmed automatically to switch ventilation fans on or off, to broadcast alerts to the network administrator and to control Power Distribution Units remotely ("smart power"). The ARC can be assigned an IP address so that it can be remotely interrogated over the web; it is also Telnet and SNMP enabled. It has eight independent digital input ports and four controllable outputs, two mains switching and two 12V 1A switching circuits.

The Active RAK Controller transforms the enclosure from a passive housing into a climate controlled, secure and environmentally intelligent cabinet, fully integrated into the host network.
Zero U solution or 1U rack-mounted

Up to 8 multi-purpose digital inputs

4 Controllable digital outputs: 2 x 220-240v 5A switching, e.g. fans. 2 x 12v 1A DC switching, e.g. door bolts.

2 Temperature/humidity ports

Keypad input

2 Ports for controllable power distribution units

Boolean logic control

Network access via Web, Telnet or SNMP using 10baseT ethernet

Compatible with HP OpenView, Tivoli, etc

Free viewer/programmer

Works with most Network Management Systems (NMS)

Standard CEE22 (kettle type) 220-240V power outlet

Free CD (MIB, viewer, manual)
For a free survey/quotation call our technical sales team on 01932 867720
Alder Networks Ltd Cabinets & Racks